Training an image classifier
Image classification is the task to attach a single label to an image, e.g. to determine whether an image is a cat or a dog.
Data format
The platform has the following requirements for training from images for single label classification:
All data must be in image format, most encoding supported (e.g. png, jpg, …)
gif images are not supported to avoid label errors when decoding the multiple frames!
Use one directory for each class

Every directory contains an image per training or testing samples for that class
Data format for image classification:
mydata/train/
mydata/train/dogs/
mydata/train/dogs/dog.1223.jpg
mydata/train/dogs/dog.2124.jpg
mydata/train/cats/cat.314.jpg
mydata/train/cats/cat.3124.jpg

mydata/test/dogs/
mydata/test/dogs/dog.3333.jpg
mydata/test/cats/
mydata/test/cats/cat.1123.jpg

DD platform comes with a custom Jupyter UI that allows testing your dataset prior to starting the training: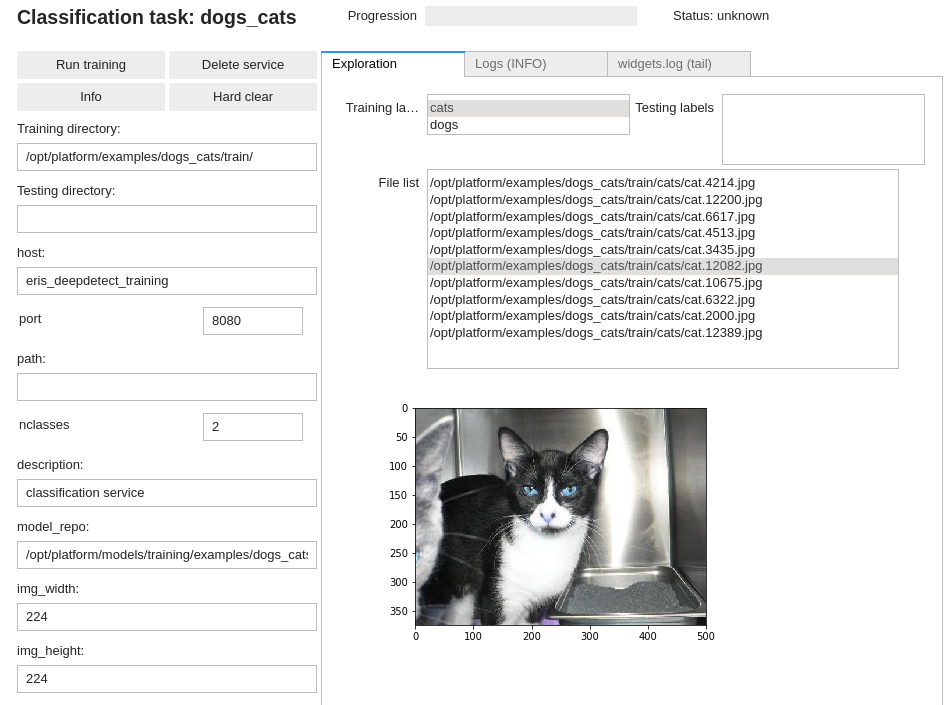 Training an image classifier
Using the DD platform, from a JupyterLab notebook, start from the code on the right.
Image classification notebook snippet:
img_classif = Classification(
  'dogs_cats',
  training_repo='/opt/platform/examples/dogs_cats/train/',
  tsplit=.2,
  host='deepdetect_training',
  port=8080,
  model_repo='/opt/platform/models/training/JeanDupont/dogs_cats',
  template='se_resnet_50',
  img_width=224,
  img_height=224,
  mirror=True,
  rotate=False,
  base_lr=0.001,
  solver_type="AMSGRAD",
  finetune=True,
  weights='/opt/platform/models/pretrained/se_resnet_50/SE-ResNet-50.caffemodel',
  iterations=2500,
  test_interval=500,
  snapshot_interval=5000,
  batch_size=16,
  iter_size=2,
  nclasses=2,
  test_batch_size=4,
  noise_prob=0.001,
  distort_prob=0.001,
  gpuid=0
)
img_classif

This prepares for training an images classifier with the following parameters:
dogs_cats is the example job name
Job names must be unique, replace `dogs_cats` with your own
Using job names that reflect your experiments is good practice, e.g. `dogscats_seresnet50_iter2.5k_amsgrad`
training_repo specifies the location of the data
Using your own data, set `training_repo` to `/opt/platform/data/JeanDupont/your_dataset`, and replace `JeanDupont` with your name
template speficies a Squeeze-Excitation ResNet-50 that has excellent capabilities

mirror activates mirroring of inputs as data augmentation

noise_prob and distort_prob activate random transforms for data augmentation, see https://deepdetect.com/tutorials/data-augmentation/ for more details

finetune automatically prepares the network architecture for finetuning

weights specifies the pre-trained model weights to start training from

solver_type specifies the optimizer, see https://deepdetect.com/api/#launch-a-training-job and solver_type for the many options

base_lr specifies the learning rate.

gpuid specifies which GPU to use, starting with number 0
You should get around 99% accuracy on the example cats & dogs dataset with the configuration above.
Recommended models
The platform has many neural network architectures and pre-trained models built-in for image classification. These range from state of the art architectures like ResNets and DenseNets to low-memory Squeezenet, Shufflenet and Mobilenet.
Below is a list of recommended models for image classification from which to best choose for your task.
| Model | Template | Pre-Trained (/opt/platform/models/pretrained) | Recommendation |
| --- | --- | --- | --- |
| GoogleNet | googlenet | googlenet/bvlc_googlenet.caffemodel | Very Fast / Good accuracy / embedded & desktops |
| SE-ResNet-50 | se_resnet_50 | se_resnet_50/SE-ResNet-50.caffemodel | Fast / Excellent accuracy / desktops |
| SqueezeNet | squeezenet | squeezenet/squeezenet_v1.1.caffemodel | Extremely Fast / Good accuracy / embedded |
For a full list of available templates and models, see https://github.com/jolibrain/deepdetect/blob/master/README.md#models
For a review of performances on desktops and embedded devices, see https://github.com/jolibrain/dd_performances